Top 3 Simple Alternatives to Adsense in 2020
When a blogger wants to monetize their blog, they often first go to Google Adsense — it makes sense since Google Adsense is owned by Google.
However, it can take months for Adsense to even review your application given its strict requirements and long approval time. It just makes it more gut-wrenching if your blog is rejected for not being 'advertiser-friendly'.
Not only that, but sometimes you think you've appeased the Google gods by following the rules to the dot, only to find your Adsense account suspended or disabled. You won't even be able to fix your mistakes since they won't even tell you what arbitrary rule you violate!
Thankfully, you don't have to give up on monetizing your site if you don't qualify for Adsense. There are tons of new ad networks that can rival the earnings you get from Adsense. To save you the trouble of looking, here are 3 reliable Adsense alternatives that can keep your wallet full and happy without the extra hassle.
1. Media.net

Media.net is an industry-leading contextual ad network brought to you by Yahoo! and Bing. Since it's a contextual ad network, it'll show a huge range of ads with different ad unit sizes that go with the content of your blog.
Besides that, Media.net is one of the few ad networks that provide a dedicated account manager. Need solid advice on optimizing your ad? You've got it! Need someone to optimize your ads for you? This account manager takes care of it too.
Media.net is invitation-based, so you have to fill in your details and a representative will evaluate your site. It's a fairly easy process that takes an average of 2 days from start to finish.
Once approved, you can use a single Media.net account for all of your websites. This trustworthy ad network also offers an extra 10% on top of your earnings for the first three months if you sign up with an affiliate link. With the high-paying ads and your blog content, you can reach the $100 payment threshold in no time.
Media.net is a great Adsense alternative if you own product heavy, high performance sites. It takes a lot more hard work for smaller blog owners to qualify and reap the benefits of Media.net.
2. PropellerAds Media

PropellerAds media is one of the fastest-growing ad networks on the market that has enticed bloggers because of its ease of usage and timely payment.
PropellerAds offers pop-under ads, native direct ads, interstitial mobile ads, push notification ads, and banner advertising for all standard sizes.
With a wide range of ads from PropellerAds, you can pick the right type of ads depending on what kind of blog or website you run. This reliable ad network also has adult ads. Great if you don't want your mature content to be penalized by ad networks; not very good if you run a child-friendly website.
Besides that, PropellerAds has an easy-to-use interface that you can learn pretty quickly. With lots of real-time performance improvement tools and targeting options at your disposal on the dashboard, you can improve your ad campaign whenever you want to yield maximum returns.
You don't have to worry about adblockers crippling your ad campaigns either with PropellerAds' anti-adblocker system. The minimum payout from PropellerAds is $25, which can be paid out via popular payment methods like PayPal and Payoneer. Wire transfers are more expensive as you need to pay a $50 withdrawal fee with every transaction.
3. Amazon Associates Program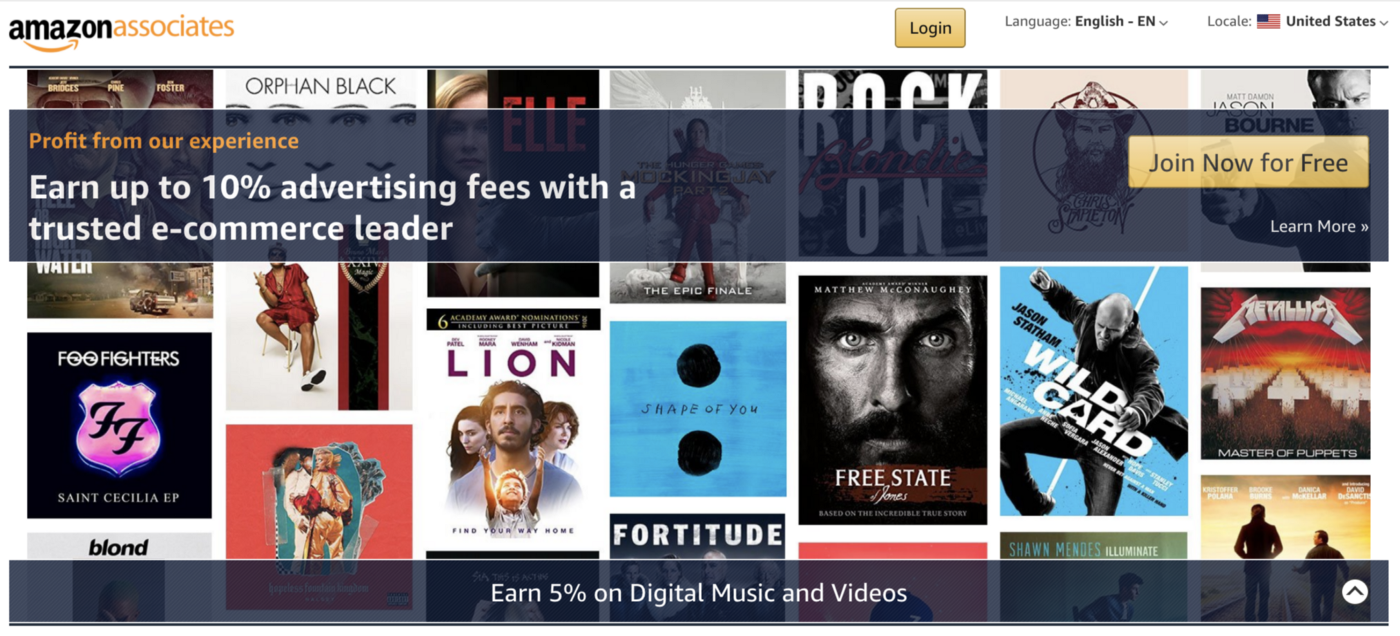 Amazon Associates program is the go-to choice for any website that focuses on product reviews and product recommendations. Although it doesn't offer pay per click ads, nor pay per view ads, you get a commission for every item your visitors buy through unique affiliate links from your blog. This can add up to a lot, especially if you focus on big-ticket items.
Besides that, you can also display native ads, ad carousels, and display ads from Amazon on your blog to monetize your traffic.
Bottom Line
Although Adsense is still every blogger's number one choice in blog monetization, there are now more alternatives available to new bloggers who might not qualify for the network.
Media.net, for example, offers similar ads to Adsense but without the harsh rules and unreasonable suspension. It might be a bit difficult to qualify for it if you just started building your site, but the dedicated account manager and features you get with Media.net are well worth it.
That being said, we suggest that you have a combination of ad networks on your site to drive up your earnings. All 3 sites that we've mentioned in this article work beautifully together (and with Adsense if you qualify). Just make sure to not clog up your site with ads and you're golden!