3 plugins to speed up your WordPress in 3 minutes
There are many techniques that you can use to make your WordPress site a lot faster. Search engines like the Google rank websites with fast-loading times much higher than other the slow-loading ones. So, if you want to improve your search engine ranking position (SERP), improving your speed first should be one of your main priorities.
Here are 3 plugins you can install right now to greatly speed up your WordPress website:
reSmush.it to optimize your images & shrink file sizes
Cloudflare CDN to increase download speeds
W3 Total Cache to improve processing time
Don't have time to do it yourself? Get it done within a few hours with a cheap freelancer here.
Why is my WordPress site slow?
The biggest factor that affects the speed of the WordPress website is the hosting of your WordPress website. It might seem like a great idea to host your new website on a shared hosting provider that has offers like "unlimited" bandwidth, space, emails, domains, and much more. But WordPress themes use a lot of dynamic elements which create large page sizes and increase server processing. It's best to choose a quality website host like Digital Ocean that can handle more complex themes and WordPress sites. They also have a 1 click install for WordPress that makes it easy to create a new WordPress site.
Get started with $100 free credit on Digital Ocean here.
Often people new to WordPress think that their website is OK and work properly because it does not feel slow on their own computer. But that is a HUGE mistake because other people visiting your website for the first time will probably not have the same experience. In fact, people in different geographical locations will often have a completely different experience based on their internet speeds and the devices they are using.
This is why we recommend that all bloggers and WordPress owners test their website speed using the Google Page Speed tool. A good page loading time is under 2 seconds. Your speed test report will likely have multiple recommendations for improving your website speed. But, most of that is technical jargon which is hard for us beginners to understand. So here we have 3 plugins that will do most of the heavy lifting for you.
reSmush.it to optimize your images
Firstly lets install reSmush.it to optimize your images by resizing and compressing them. This plugin will also enable "lazy load" which downloads images only as people scroll enough to see them no your page, rather than just downloading everything at once.
Here is the steps to compress your images using reSmush.it plugin.
On the navigation menu click add plugin.
Search reSmush.it and install the plugin.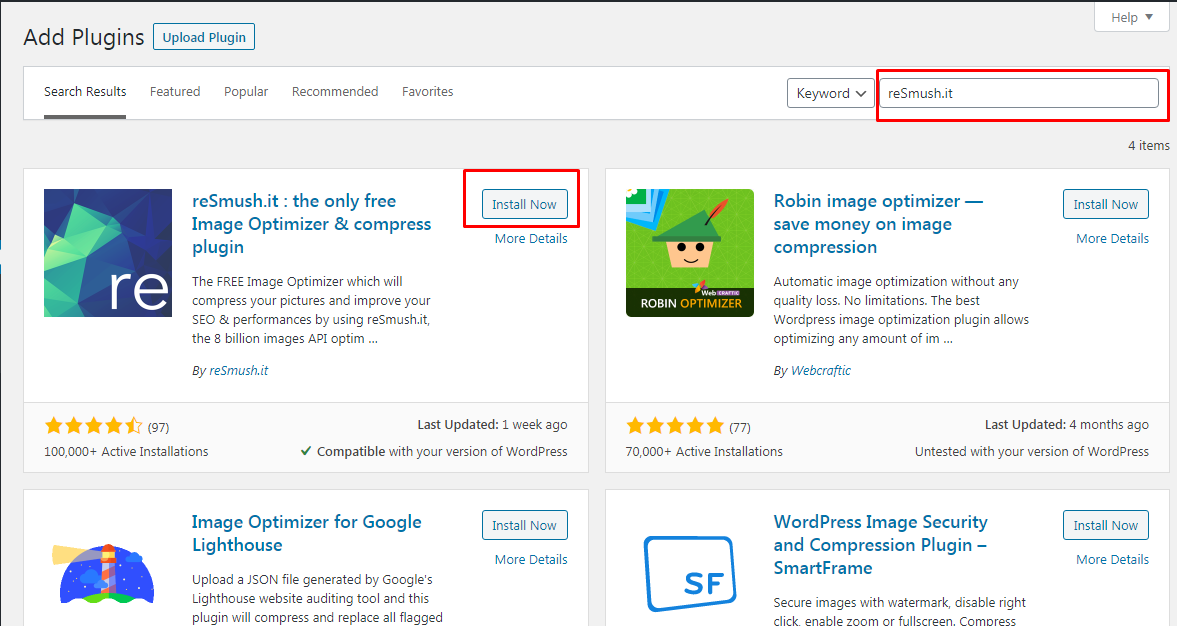 Then Activate your plugin.
Next Enable Optimize on upload and Statistics options.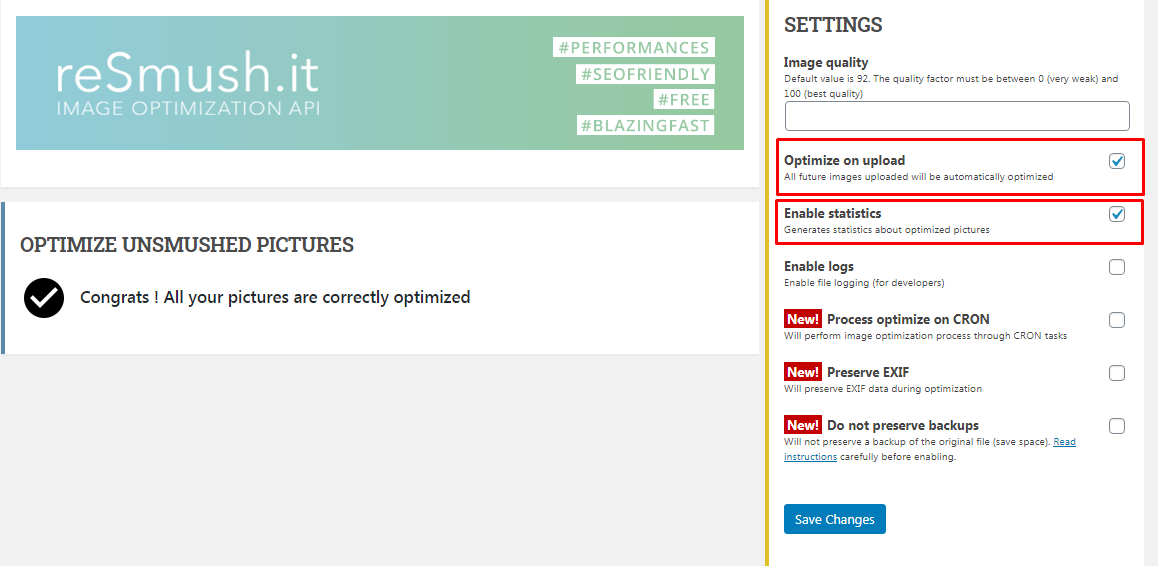 That's it, now all your images are optimized!
Cloudflare CDN to increase download speeds
Using a Content Delivery Network (CDN) is one of the best ways to reduce your page loading time. There are many similar plugins to choose from, but Cloudflare stands out among the rest because its one of the best CDN and firewall services available in the market. They offer a free version of their CDN that will speed up your website along with a suite of all types of powerful security features that come along with it. Let's walk you through a complete Cloudflare setup in WordPress to help you improve your website speed.
How to setup Cloudflare? Don't worry follow these steps
On the navigation menu click add plugin.
Search for Cloudflare and install the plugin.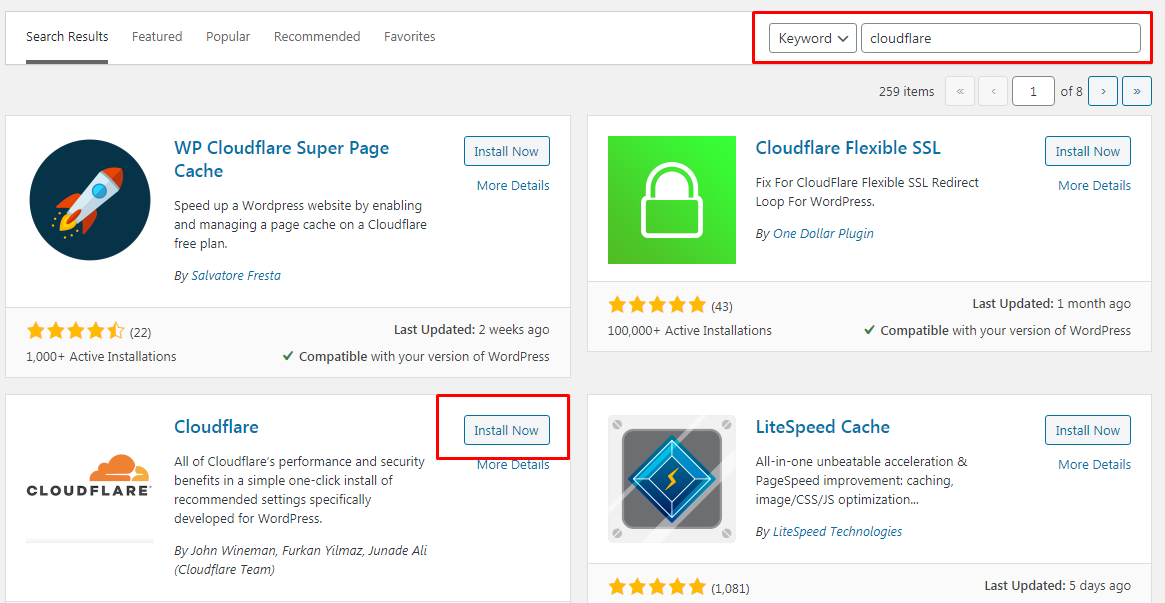 After Activating your plugin, open plugin page and there is option for email and API.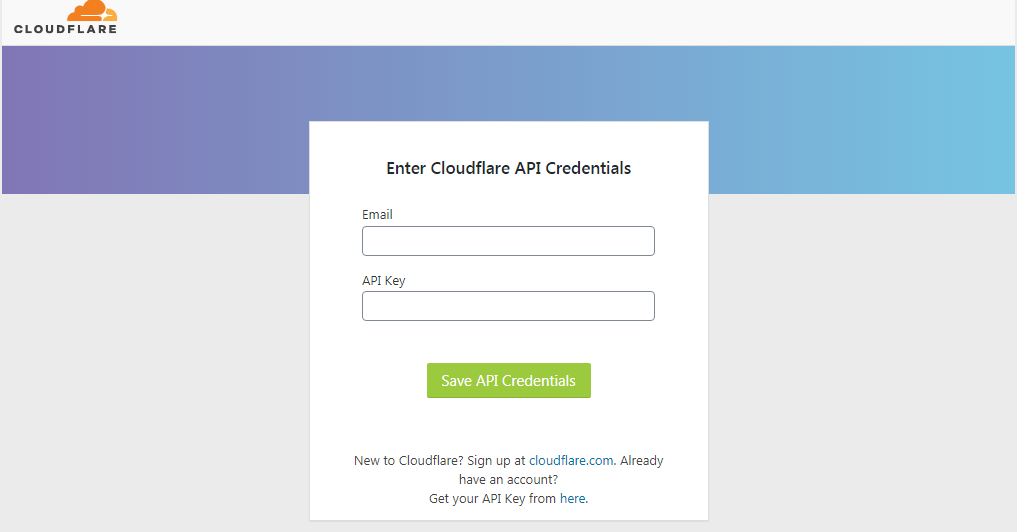 Create Account on Cloudflare and get API from profile option.

Get API Keys by clicking on view in Global API Key option.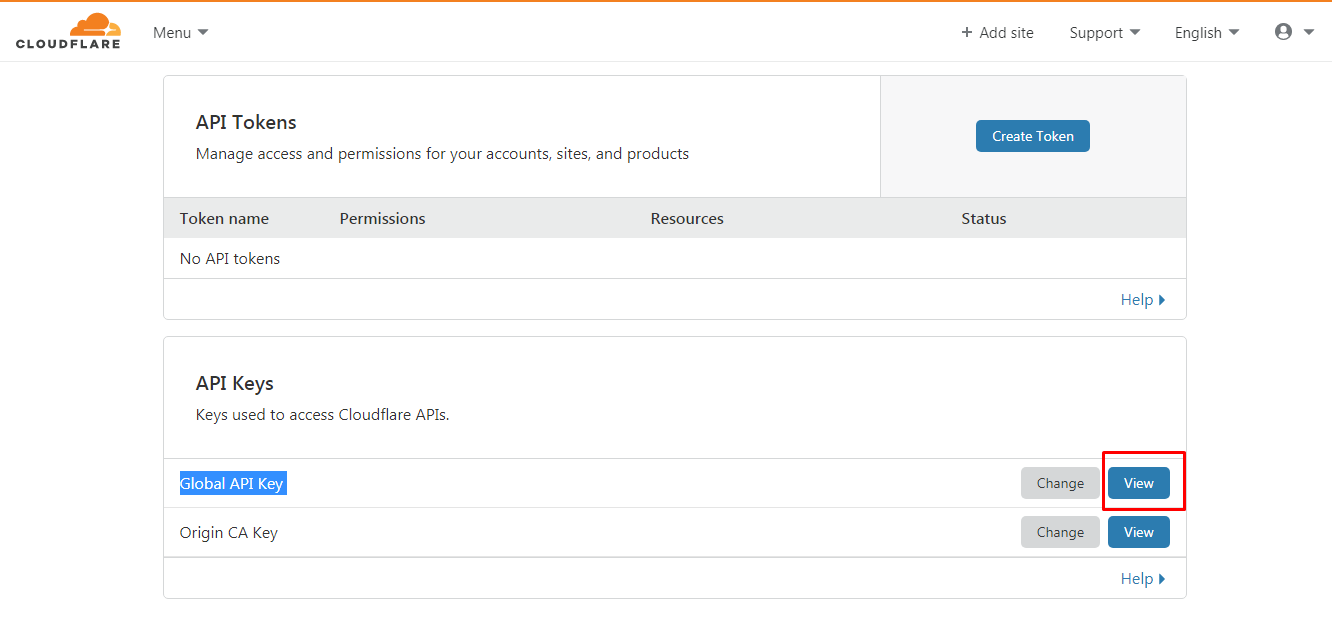 Enter your Password and you will get the API for the plugin.
Back on your WordPress enter your email and API in Cloudflare plugin page.
Cloudflare is now enabled on your website. Give it a few minutes for Cloudflare to do its magic and then run the speed test on your website again.
W3 Total Cache to improve processing time
W3 Total Cache reduces load times for WordPress websites. It ensures your website uses the most up to date best practices for website delivery by optimizing and compressing your pages and posts and the cacheing them so visitors can interacted with your site more quickly.
On average people see a 10x improvement in overall site performance according to Google Page Speed when fully configured.
Follow these to setup W3 Total Cache Plugin
On the navigation menu click add plugin.
Search W3 Total Cache and install the plugin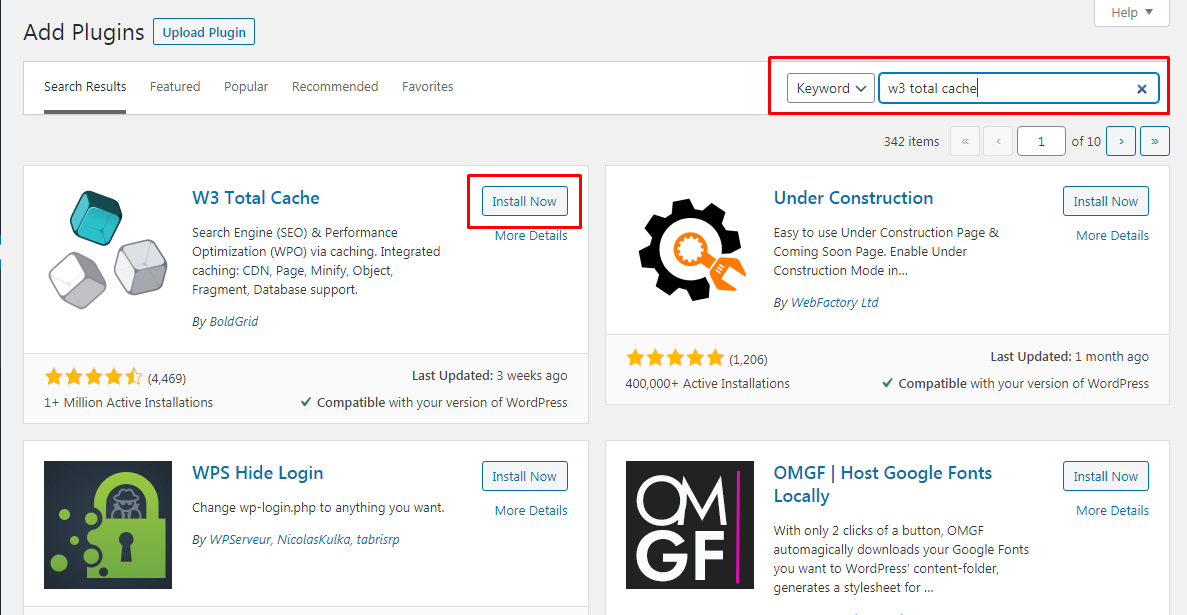 Activate plugin and open plugin page.
Enable Page Cache and select page cache method as Disk: Enhanced.

Enable Minify and set HTML, CSS & JS minifier as default.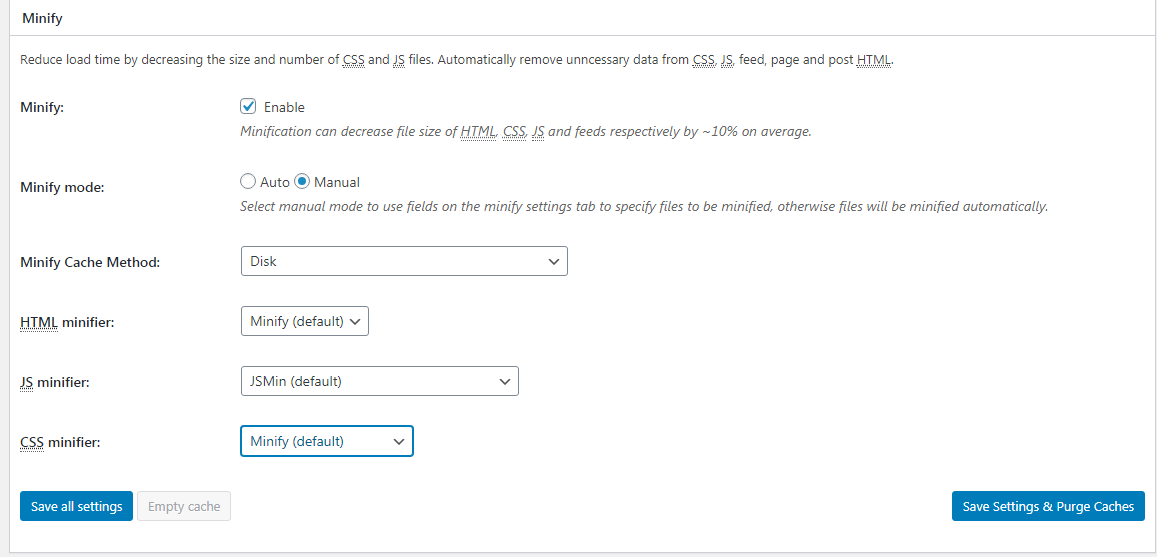 Enable database Cache and select database cache method as Disk.
Enable object Cache and select object cache method as Disk.
Enable browser cache.
Your WordPress is now cached and will deliver posts and pages to your visitors a lot faster.
Extra tips to improve WordPress speed
WordPress plugins are obviously very useful, but in some cases these plugins can cause more problems then they solve, and slow down your website. Here are some tips to keep your plugins and WordPress site running optimally.
Remove unnecessary sharing of widgets from the home page. Keep in minimal!
Keep your plugins up to date.
Ensure your website server and WordPress version are both up to date.
Show excerpts instead of full posts on your homepage.
Don't forget to run another speed test on your website after you installed all 3 plugins to see how much faster your site has gotten.
I really hope these plugins and tips help you boost your WordPress website speed, let us know the improvements you had.
I tried to make this guide as easy as possible to follow, but if you really don't have the time then I recommend getting a cheap freelancer on fiverr to get it done for you.